Have I told you how good it feels to be able to craft again??!!!! lol I'm loving coming home and working on some of my projects :)

I am making name plaques for Christmas for my kids. I just finished Brandon and Carissa's tonight and love how it turned out. This so fits their house decor!!


One down, 2 more to go along with a bigger project that I have to get done before the 24th!! I think I know what I'll be doing this weekend lol.
Have a wonderful day and happy crafting!!
Today's quote: "Have patience with all things, but chiefly,. have patience with yourself. Do not lose courage in considering your own imperfections, but instantly set about remedying them and every day begin the task anew."

Linking to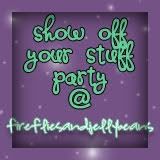 xo ~ Laura