Happy Thursday!!

So did I get your attention from the title of secret project? lol Well it's not really a secret, I'm just not sure how I'm going to get it done exactly. I have a vision but it will take a little work so you'll have to stay tuned for what and how it turned out at a later date :) I promise it will be worth it.


I also had purchased this styrofoam wreath form at the Dollar store and wanted to do up a new fall wreath as I think Summer is pretty much overwith around my neck of the woods.
I had these flowers around the house that I had picked up a while ago, already had the material and ribbon so the cost of this project, $1 :)
I think it turned out very cute and love it!
Also, I am only 2 away from hitting 100 followers so once I hit that, yup I have another giveaway to say thank you so another fun thing to keep up on.
Linky parties for today: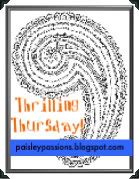 Great candy giveaway over at Val's at
Val's Crafts
. If you're into making cards or scrapbooking, this is awesome :) Thanks Val for hosting such great candy!!
Have a fantastic day and happy crafting.