Happy Friday !!!

Wow what a week this has been. I got a call on Thursday afternoon and I got the job that I was waiting to hear back from and start Tuesday the 7th! Great timing let me tell you. Guess my Summer vacation is overwith now lol. My crafting will be cut down big time but I will definitely keep busy. Carissa and I went back to the bridal store and she tried on her favorite dress she had chosen last Sunday and she found "The One" and so that is another big one off the wedding list :)

Tuesday was my 2nd oldest granddaughter's 9th birthday and she loves crafts just like her Nana so even though I bought her a few things, I wanted to do something extra special for her so this is what I came up with.


She absolutely loves pink and purples so this was a no brainer on how to decorate this block.
I also made her a couple of washer necklaces and tried a different technique I've never done before :) I just took a plain metal washer, put some glitter lines and dots on them, then covered it with glaze and they turned out so cute! Now mind you they are still semi wet in the pictures lol.
I also sat down and painted some watercolor designs for some more card making. It is hilarious as now that the family is starting to see what I'm doing, they are wanting me to make cards for them to give away also since they can be customized so that is keeping me entertained since my back isn't 100% yet.
I also received my necklace that I won from Haley over at
The Autocrathaley
and she wasn't kidding when she said this was Texas size!! Take a look at this one. It is gorgeous and I will love wearing this proudly. Thank you Haley!!
Linky parties I'm doing today: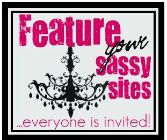 Have a fantastic day and happy crafting!!
xo ~ Laura