Happy Sunday!!!

First off, I got up Saturday morning to check my blog and had a comment from Haley over at The Autocrathaley that I had won her 200 follower giveaway. Take a look at this gorgeous necklace I won!! I'm SO excited!!! Thank you SO much Haley :)

I have been busy playing with my Cricut and learning some more in depth functions and decided to try my hand at making tags. It takes some getting used to with the different papers and figuring out what settings work best but I think these turned out cute!! Besides I had to do something as my back has been hurting so I can't life heavy things right now with my redo's. Ho hmmmmm.
This one is my sweet little pink believe one. I did my first more intricate cute with the Cricut on this one with thinner pink design paper and placed it over brown linen cardstock and embelished it with a few pink rhinestones and a silk flower. Love it :)
This one is pretty neat as I took a sheet of music paper, ripped around the edges and distressed and the flower is something I made out of an old book page. How cute it that!! This is a little bigger tag that could be used for a photo on the back as it is a 4" one.
This little sweet one is a smaller 2" one and I did the same affect on the paper. You just hand rip the page and distress and then I added a cute flower to bring it all together. Cute cute!!
There are so many uses to do with these tags. Put them in mini albums, in cards or
in with a special little gift with some personal writing space on the back. Love it!!!
We had a wonderful time at the ball park yesterday and the weather turned out to be perfect so we got to sit and enjoy the sunshine with not too hot weather. High of about 72 with a slight breeze. Perfect. Here are a few shots that I took. I won't bore you with all of them as there are quiet a few. lol I love to document memories :)
We were on the 3rd baseline in the 1st row right on the field. It was awesome!! My brother-in-law is the best for giving us these seats let me tell you :)
And of course you have to get a picture of the mascot!! The "Moose" :) Last time I saw him he ate some of my popcorn lol
This was our view, not bad huh!!!
Well it's off with some of the girls today as it is wedding dress shopping time!! My daughter is so excited and has a few of her bridesmaids going also, the mother of the groom and her Dad so we've got a full house. Have you ever stopped to think about the very special memories that you are making watching such milestones of your children??? I bet you anything that I will get tears in my eyes as she comes out modeling the dresses that she's chosen. Sigh........
Giveaways I'm following today: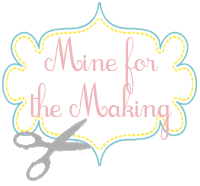 Have a great day and happy crafting!!
xo ~ Laura