Happy Friday!

Well I think I have finally figured out how to do these totes. I had to change things up a little as my vinyl wasn't wanting to stick to the fabric of the totes so I had to change over to fabric paint which is more work but oh well lol. I still have to clean up the lines a little more and then it will be all done.


The first bridesmaids totes now done and finishing drying and am liking how they turned out. They will all be the same with the exception of the flowers, or at least that is my plan but you never know about me. I decided to go one step further and personalize them so they won't get them confused on the big day so made a little chipboard flower and put their names on it. Yup, that should do it :)
I also found these rose petals on sale so decided I wanted to try to see what kind of flowers I could make with them and just started playing around and came up with this. Not bad huh :)
Blogs I'm following today: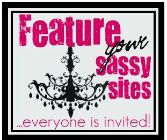 Have a great day and happy crafting!!
xo ~ Laura