Happy Thursday!!!!

I have been a busy girl getting together the gifts for the girls and am little by little getting them done. These are all going to be customized according to their hobbies that they love or the colors that they really really like. Be forwarned, the glue isn't dried on these yet so you can see it through the ribbon on some. Yes I'm impatient :) lol


Here is what I've gotten done so far. 5 down, 2 more to go.
This one is for her best friend and Maid of Honor. They were always hanging out and going everywhere together. They met in 7th grade and still are very close even though they've graduated. So can you say "girlfriend" theme for this one? lol She now is living in California but she's right there getting so many things done and wanting Carissa's special day to be perfect. She's like a daughter to me that's for sure.
This one is for her bridesmaid who loves anything country :) I had found quiet a bit of embelishments for hers so far and it will be a fun one to finish out.
Giveaways I'm entering for today: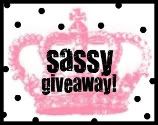 "
Linky Parties I'm doing today:
So have a wonderful day and happy crafting!
xo ~ Laura