Happy Monday!

If you have been following my blog, I did a trial run on a topiary that I want to do for Carissa's wedding. This was my dry run. I had just used crepe paper on this one.


This is what I used to do it.
Glue, paper hole punch, filters, styrofoam ball (this one was a 3" one) and a pencil or something that can be used to wrap the filter around.
Take the paper punch and place a hole in the middle of the filter. I just folded it in half and punched it.
Take your pencil or tool through the hole and pinch both sides together.
Start twisting it around in a circle until it forms a bud like shape that you want. The tighter the twist, the more depth you get.
Take the tool out and you get a shape like this one. Make sure the stem part is wrapped tight as it is easier to place it in the holes you make in the styrofoam.
This is about the size and shape that I used on this ball. Then I just put some thin glue around the edges and dipped it in silver glitter. Put a little glue in the holes you put in the styrofoam and place the stem in and cover the entire ball. That's all I did :)
Also Kara over at
Mine for the making
asked me how to do the tutorial for the fabric flowers that I am making for the totes so here is my attempt at it. You know it is really hard to take pictures and hold things in your hands at the same time. lol So excuse the pictures and if you have any questions, just shoot me an email and I'll help you out :)
I make strips that are around 2 1/2" - 3" in width by ripping the material to give it the fray look. Then I rip it again to make about a square. You can make it whatever sizes you want depending on how big you want your flower. I then cut out a circle about 1 1/2" diameter.
Take your square and fold it in half.
Fold that over until it is almost at the half way mark and put a dab of glue to hold it. I just use my hot glue gun to do it. You can also run a small bead along it once you get the hang of the folds.
Fold the other side over just slightly overlapping your first fold and glue. You will also want to put just a small dab of glue on the back of the fold to hold it a little flatter as I will show you below.
Start glueing it around your circle starting on the outside first. Each petal will slightly overlap your previous one.
This is the dab of glue that I was speaking off. Like I said it is hard to describe it but you will see when you try to make them what I mean :)
This is what it looks like all glued down properly.
I didn't go all the way around on this one yet but wanted to show you how I started the next row. I usually only use 2 rows and the middle is filled in and then place a bead or pearl for the embelishments. This is what you come up with :)
Linking to the following blogs for today. If you haven't checked them out, hop on over and say hi.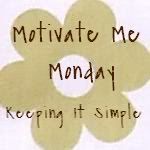 If you love fabric, hop on over to Quilt Story for a great giveaway!!

So that's it for me :) Have a wonderful day and happy crafting!!
xo ~ Laura