Happy Sunday!!

As you know, today is a very very special day for me for a few reasons. Today I officially turn 50 years old and I hit my 50+ followers all in the same weekend!! Wow I am so blessed that I have so many new friends and I love each and every one of you!! We're on our way to 100 very quick it appears :)

To show my appreciation I did my very 1st giveaway with something I made from my heart.


OK so I won't keep you in suspense anymore. The winner of my first giveaway is ~
Linda at
Parkers Paradise
!!! Contact me Linda so I can get your mailing information. Congratulations on my very first giveaway!!
Thank you to all of you who entered for this. You are all so special and just know that I love each and everyone of you :)
What a wonderful weekend I have had and couldn't be more blessed!! Saturday my youngest daughter called me and asked if I was home and I was so she said well we're coming over. She's had a very rough week and lost her kitty of 3 years and she has been very down. Of course being a Mom, my heart was broken for her. Well her fiance surprised her and got her a brand new 10 week old kitten named Blaze. He is going to be spoiled that's for sure and he will definitely only be an inside kitty. It will be interesting to see how their dog "Red" does with him. He's a Red Healer but just a sweetie.
Let me introduce little Blaze :)
This is Red :) He loves coming over to Nana's and gives me smiles and lots of lovin!
Then today my kids threw a 50th birthday party for me over at a local lake which we all enjoy in the Summer. I had so many friends and family there and my day was perfect!! This is a shot of how beautiful it is. A clear shot of Mt. Rainier. Gorgeous huh :)
Here are just a few fun shots of my special day with my family. It is definitely a day to remember. I hope you enjoy them :)
OK so my youngest got me all these fun things to wear so to humor her I wore them and we got some great laughs! lol
My best friend since 6th grade, my beautiful MIL and SIL
My husband with the sunglasses on, my ex on the left, my nephew in the orange and my BIL
My granddaughter, my youngest daughter and her best friend.
My ex with my grandson and granddaughter

The group :)
My son thinking it would be funny to throw Mom in the lake. lol Don't worry, he didn't.
So these are just a few of the fun shots we had today. Thanks for sharing in my special day.
Linkies for Sunday I'm following: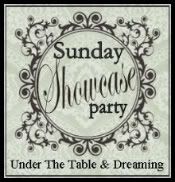 xo ~ Laura